WordPress Web Development for Accounting Firms
A comprehensive financial website for a boutique Canadian Tax & Accounting firm.
Lakhotia CPA offers wide range of tax and financial services right from personal or corporate tax filing, cross-border tax services, business advisory and much more.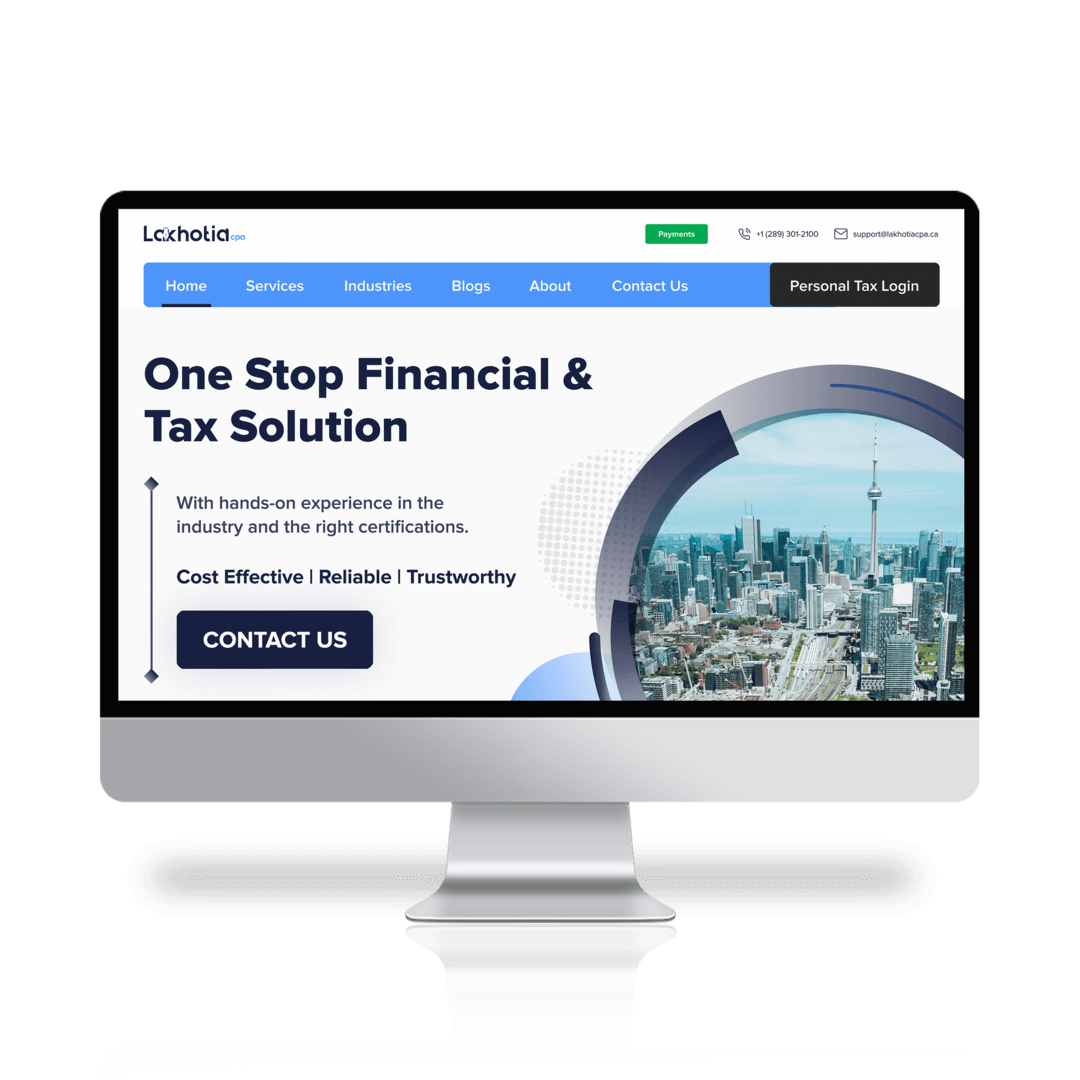 Client Profile
The client is an accomplished CPA in Canada who was looking to venture out on his own in tax and accounting segment. His goal of revolutionizing the way financials and taxes are handled in Canada was clear. He was looking to develop a website that resembled his vision.

After years of experience in a well-known Canadian based tax and accounting firm, he wanted to offer a customer-friendly approach to his services since he realized a lot of people have wrong conceptions about the tax filing process and are completely unaware on how to get maximum benefits out of their finances. 

 

Everything right from the timeline and the frequency of updates for this project was clearly outlined from the very beginning. He wanted to start with an exclusive personal tax filing platform and gradually zone out into other segments. 

 

Zorior conducted a couple of meetings with the client to understand his requirements in depth and developed a user-friendly platform that customers could use to file their personal tax. We then went on to develop this website that is at par with its competitors. The website as a whole helped our client mark his big move into the financial world.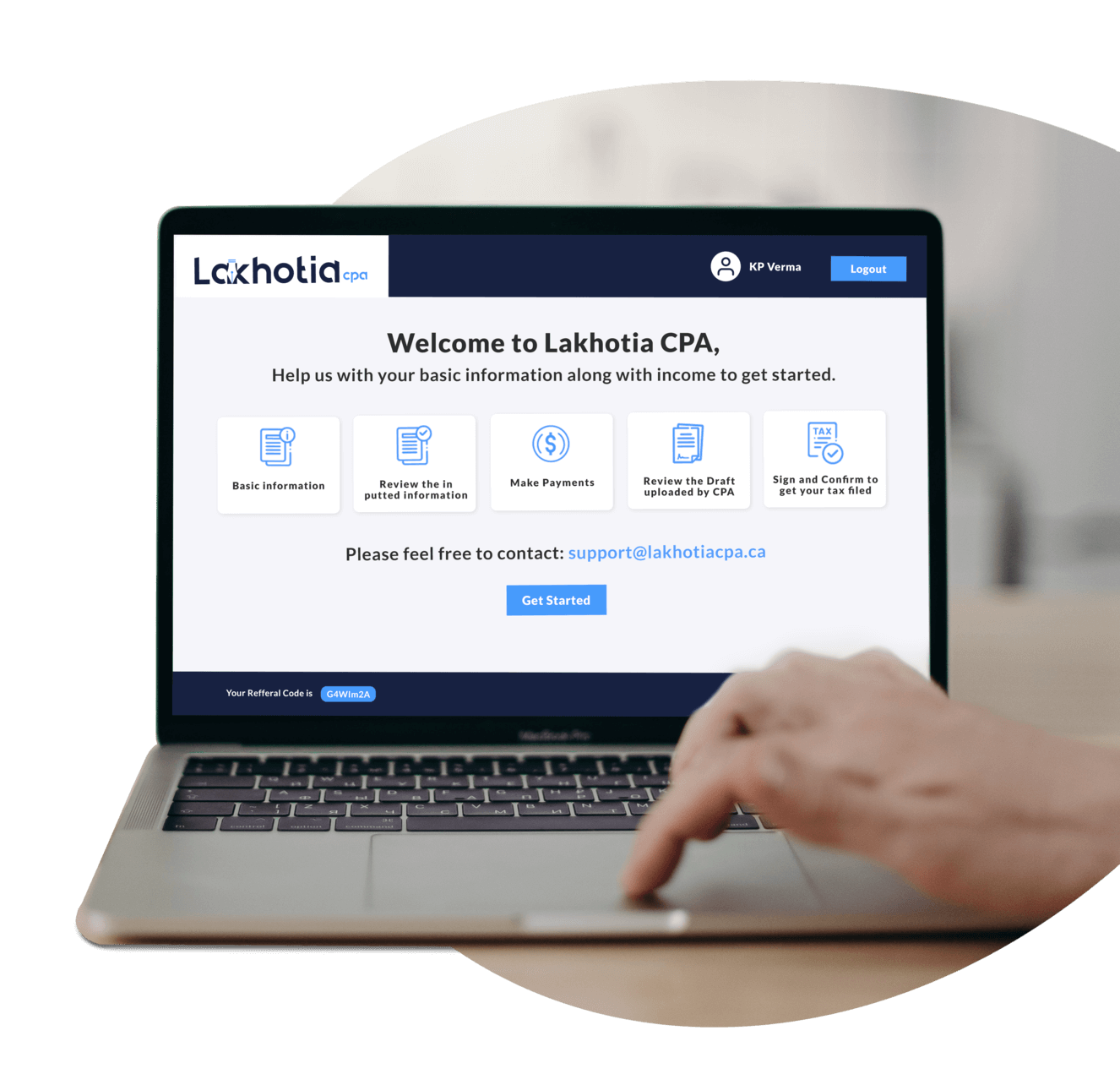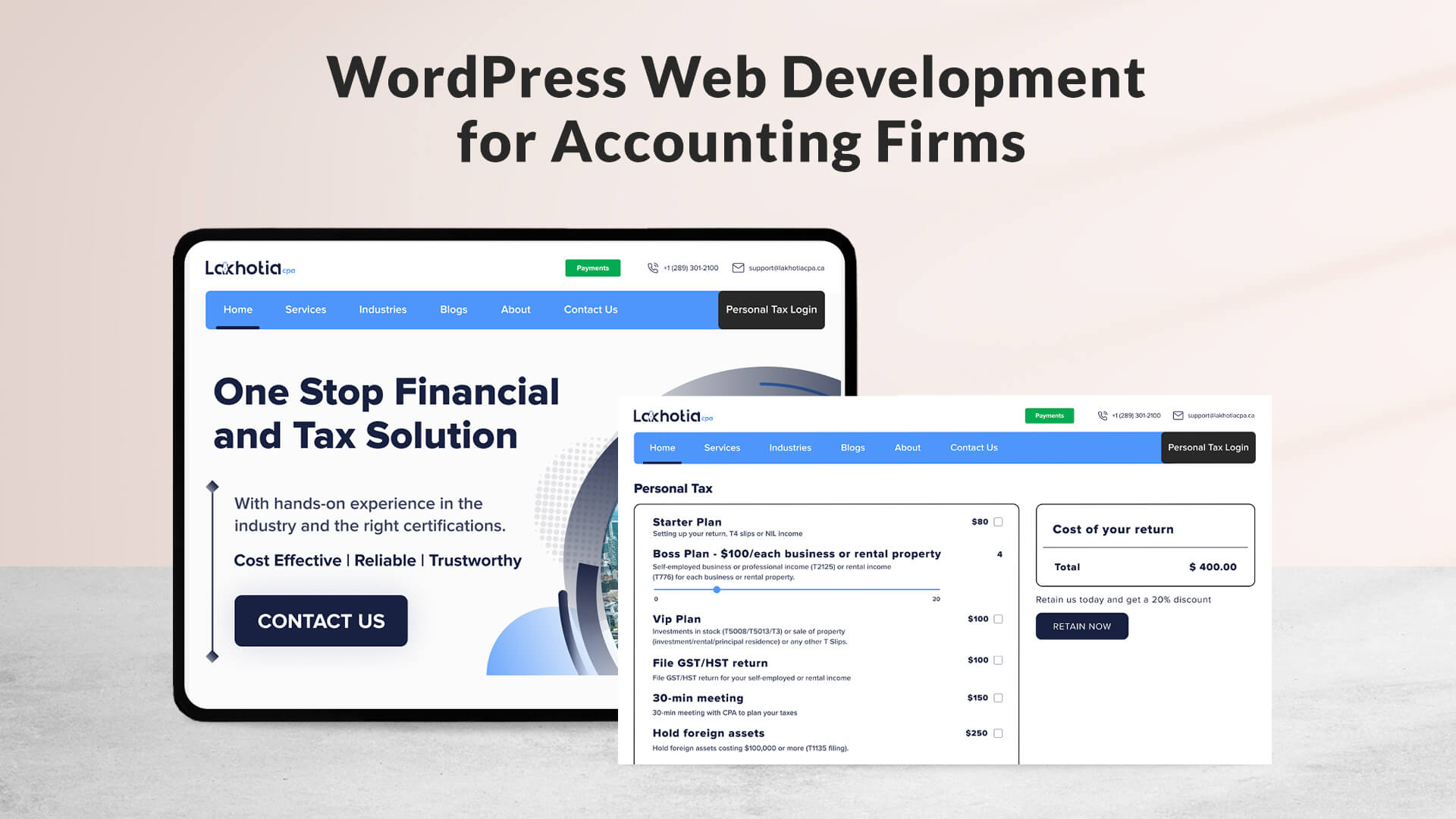 WordPress Website:
We did an

extensive competitive analysis

to create a WordPress website that is clean, easy to navigate and action-driven.

 

Speed

being a crucial factor to rank on Google, we made sure the site loads easily so it can handle all the SEO updates we have in pipeline.

 

We managed the entire

content of the website ensuring the SEO standards

on keywords and indexing. We ensured the website details out everything for the site visitor in a comprehensible manner. 

 

We optimized all of the pages with

clear call-to-action buttons

because if it doesn't compel you to click on something immediately, then it will never get any traffic!

 
We have

utilized the WordPress plugins to create a complex pricing calculator

that displays prices based on user-inputs

.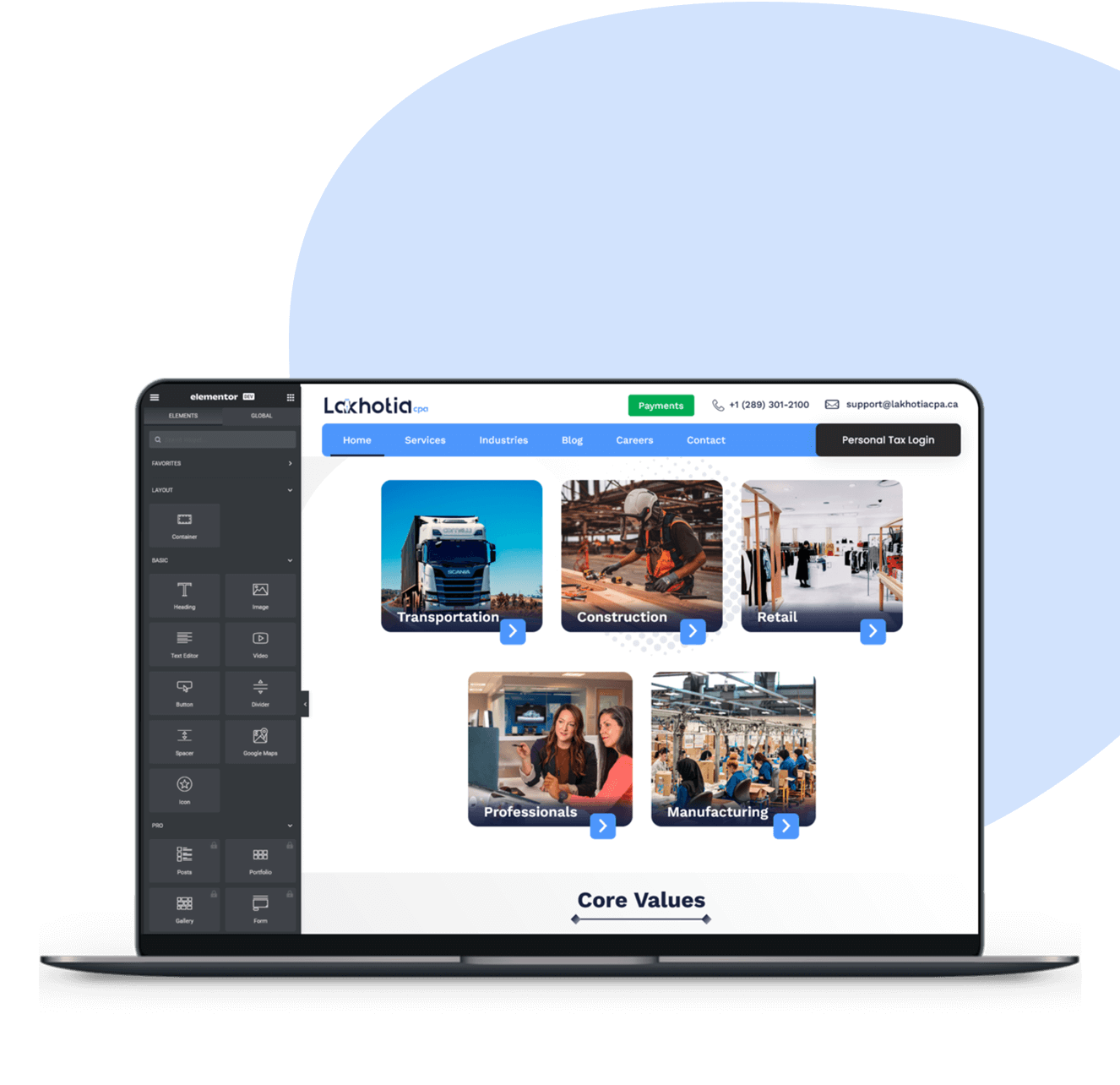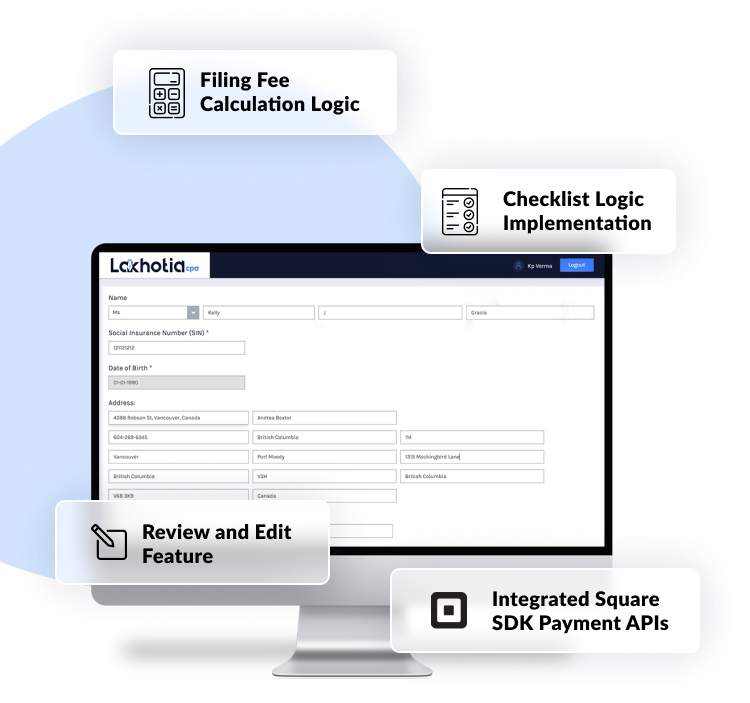 Cloud-based Personal Tax Filing Portal: 
Lakhotia CPA wanted to create an exclusive portal for its clients to file their personal taxes in an easy way. All they had to do was login to the portal, fill in the checklists created and submit all the info.  
We developed a PHP-based portal that takes not only the functional part into consideration but also makes sure that it is

straightforward and quick to use.

 

The

checklist logic implementation

on the backend portal had a lot of layers, interrelated outputs and multiple use-cases. We made sure everything was taken care of before the final launch of the product. 

 
Upon completion of the checklist, we gave a

review and edit feature

for the customers to have a quick look at their selections to make edits before making a final submit. 

 

We implemented the

filing fee calculation logic

based on the answers given by the customer.

 

The customer pays for their filing fee from the portal itself. We

integrated Square SDK payment APIs

and also ensured the payments are completely secure and hassle-free.
All we had was just the name of the client's venture and his vision to get started. We

designed everything right from the logo to the entire website

design to surpass client's expectation and delivered them a visually pleasing, professional, action driven and a secure website. 

 

The client wanted to have a

pricing calculator

on the website for the first-time visitors to gauge their personal tax filing fees. Though we used a WordPress plugin for this, it still required lots of tweaking and adjustments to derive the final output we have on the website right now.

 

The core implementation on the platform lies in the

checklist that is very extensive and inter-related.

A single error could lead to wrong tax filing info. 

 

We focused on two things while creating this checklist on portal:  

A) Thorough testing

with

multiple use-cases

to make sure the checklist works as

B) Ensuring a user flow that did not confuse the customers

. With so many

questions pertaining to different factors to be considered while tax-filing, we

developed a flow of the checklist that is effortless and